Privacy Legal Notice
By using our services, you trust us with your data. We understand that it is a great responsibility and we do our best to protect your information and allow you to control it. This Privacy Policy covers what we collect and how we use, disclose, transfer and store your information and how you can update and delete it.
Effective date: November 24, 2020.
1MillionBot Identity
If you have any questions about this Privacy Policy, you may contact us using the information below:
Name: One Million Bot SL

Street: Avenida Pintor Pérez-Gil 16, 03540 Alicante

Country Spain

Telephone: 623 02 57 67

Email: admin@1millionbot.com

CIF: B42588830
Our users can send queries about personal data protection, privacy and security matters through the email provided above.
Responsibility
The service provided by this chatbot is merely indicative and its responses are not considered binding for legal purposes and/or an alleged claim of responsibility. The user accepts said limitation of responsibility with the use of this service. It is always recommended to complete the information provided here by consulting a professional in the subject matter of the consultation.
What information do we collect?
We collect information to provide the best services to all of our users. The type of information we collect is based on the type of use you make of our services and how you manage them.
There are three types of activities and for which the following data is required:
When browsing the website we only store cookies referring to the analysis of the evolution of traffic and your interaction with the website in order to improve the user experience.

Those who have requested our services (own chatbots) will be provided with account information: username (email) and password, for access to the chatbot control panel.

Those who use one of our chatbots.
All conversations will be stored in a database.
Those chatbots that are connected with Facebook, they will request the link with your Facebook account which it will only save your email and your name. Storing this data makes it easier for us to contact you to notify you of possible suspicious activity and provide you with the means to manage your data. Any data you provide them later in a conversation will also be saved.
In those chatbots that are not connected to Facebook, the data that you have provided directly will be saved.
The data is linked to your person through a random identification number generated when entering the website where one of these chatbots is located. Data will only be stored once you give us your consent to interact with the chatbot and have a conversation.
We also collect information about the interaction of your applications, browsers and devices with our services, such as IP address, crash reports, system activity, as well as the date, time and referring URL of your request in order to improve the user experience and improve our services.
Where do we store this information?
We have servers provided by Google which can be found outside your country of residence. Data protection regulations vary by country, so some offer more protection than others. Regardless of where the information is processed, we implement the same protection measures described in this document. When we receive formal written complaints, we contact the person who made the complaint to resolve any data transfers that we have not been able to resolve. Every day we work to maintain greater and better security on these servers and avoid possible problems.
What do we use this information for?
Provide our services
We use your information to provide our services, that is, we process the conversations to improve the learning of the chatbot and provide better answers.
service maintenance
We also use your information to ensure that our services are working properly, for example to check that our service is accessible to everyone and to fix problems you report to us.
Customized services
The information we collect helps us provide you with personalized services, for example when a chatbot saves your name, a link is created between you and the service to provide more personal responses.
performance measurement
We use analytics and measurement tools to understand how you use our services in order to improve product design and user experience.
Communication
We use the information we collect such as email to interact directly with you. That is, notify you if we detect any suspicious activity in the system. Sometimes, we also collect email as part of the service to the companies that hire our chatbots, such as, for example, to manage online appointments, contact forms or requests for more information.
Share your information
One Million Bot does not sell, exchange or transfer personal data to third parties, except for the following exception.
In the event that a company or organization requests the services of One Million Bot for the design and configuration of a virtual assistant, said company will be responsible for the data collected by the chatbot and One Million Bot will be in charge of processing those data. data, that is, collect, structure, store, consult and modify the data for the execution of the service. These data will provide statistics to offer a better service.
These confidentiality clauses also apply to trusted persons who deal on our behalf in accordance with the instructions we provide and in accordance with our Privacy Policy and other applicable security and confidentiality measures and with the employees of One Million Bot SL and , where appropriate, of your economic group
We will share personal information externally if we consider that it does not comply with any requirement provided for in the applicable law or regulation to attend a legal process or a requirement of a competent authority and therefore may be committing some type of infraction, fraud or security problem.
Update your information
If you need to update the information provided to a chatbot, you will need to resubmit the new information. For example, if at one point you wrote "my email is user@mail.com" and you want to update it with a new one, you should rewrite the same statement with a different email. This will update your linked data and the data you previously provided will be deleted.
Delete your information
At any time, you can delete the information we keep about you, all the data and conversations you have had with that chatbot on that platform. To do this you must click on the upper right menu of the chatbot in question and click on "Forget my data".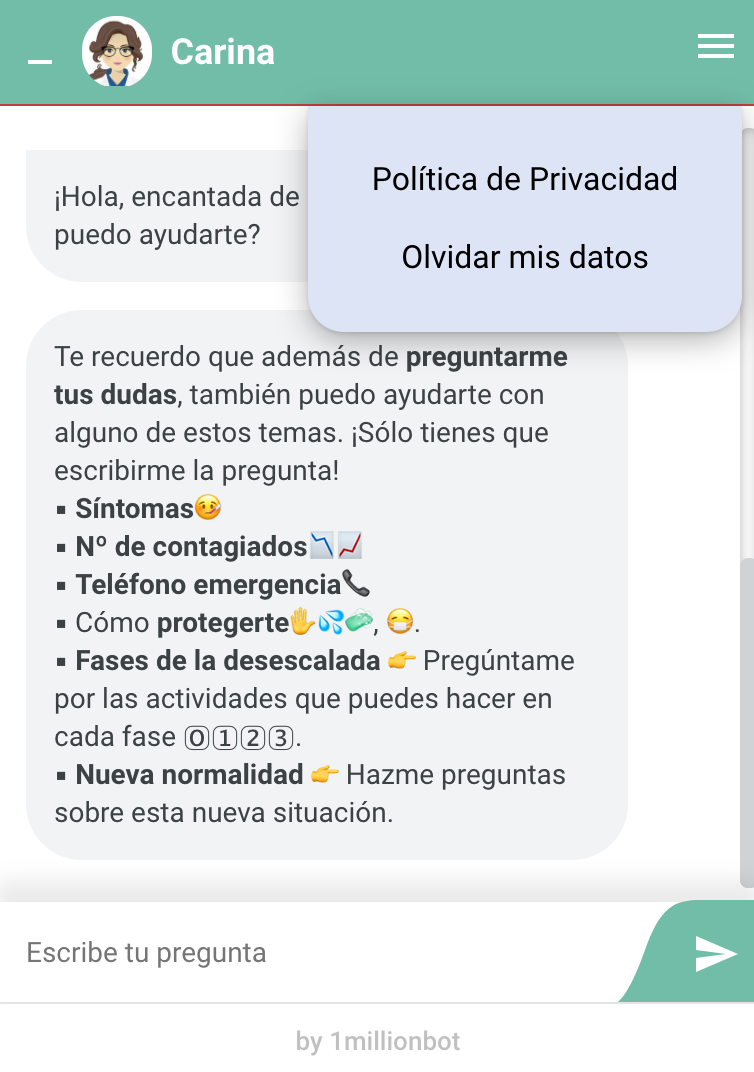 If you still have problems deleting your information, contact us using the information provided at the beginning of this document and we will attend to your request urgently and diligently.
Right to file a claim with a supervisory authority
Without prejudice to any other administrative remedy or judicial action, any interested party will have the right to file a claim using the aforementioned email address, if they consider that the processing of personal data concerning them infringes this.
Integrations with external platforms
We currently have chatbots integrated with different tools. Below we will break down the treatment of your data with each of them.
Facebook
Those chatbots integrated with Facebook request permissions for their use with the user's Facebook account and collect information, including personal information.
You can find more information about these in the Facebook Permissions Documentation and in the Facebook Privacy Policy.
By default, the permissions requested are those that include the user's basic information: id, name, profile photo, gender and location. More user information will be available if it is public.
Slack
At the Slack Privacy Policy Applications that connect to the Slack API may not collect, store, or use data without the user's prior consent. The data that is collected from the interaction with the chatbots is the following: the id of that user, the channel through which they speak with the chatbot (either privately or in a group) and the direct messages that both maintain.
Telegram
The data that can be obtained from interactions with chatbots are the following:
Sending messages to the chatbot

Participating in a group with a chatbot

Events with buttons or links from the chatbot
These types of data range from the content of direct messages with the chatbot, to basic user information. More information in Telegram Privacy Policy.
Actions on Google
Actions on Google collects data in two ways, data referring to the use of the service provided and another based on additional features to improve the service.
The first includes the following data stored by AoG, broad location (non-specific) obtained by IP, error or activity report, information about the device, such as type, touch screen, accelerometer, and gyroscope.
The second includes user information such as his name, date of birth, address or any other that the user provides.
The difference between both categories is that the first is necessary for the use of the chatbot in Actions on Google, and the second will only be stored with the prior consent of the user. More information in Google Privacy Policy.
Legal basis
EU General Data Protection Regulation (GDPR)
The processing of your data is based on your consent and we will provide you with the controls described so that you can exercise your right to request access to, update and delete your data. You also have the right to oppose the processing of your information.
In order to perform a contract with respect to the purchase of the One Million Bot service, you must provide us with the required personal data. If you do not provide us with all the required information, it will not be possible to deliver the service.
We treat your information for the purpose described in this policy in accordance with the following legal bases:
Consent
We request your authorization to process your information for certain purposes and you have the right to revoke your consent at any time.
In the exercise of legitimate interests
We process your information to pursue our legitimate interests and, at the same time, we apply appropriate protection measures to guarantee your privacy. This means that we treat your information with the following objectives:
Provide, maintain and improve our services to meet the needs of our users.

Know how users use our services to guarantee and improve their performance.

Personalize our services to offer you a better user experience.

Detect, prevent, or otherwise address fraud, abuse, and security or technical issues related to our services.

Protect One Million Bot, our users and the general public from harm to their rights and property or your safety to the extent required or permitted by law.

Conduct research that improves our services for users and benefits the general public.

Respond to legal claims, including investigation of possible violations of the applicable terms of service.
To comply with legal obligations
We will process your data to comply with a legal obligation that requires it, for example, to respond to a legal process or a requirement from a competent authority.
We will not knowingly collect any information from anyone under the age of 13. Our site, products and services are directed to persons who are at least 13 years of age or older.
If you have any questions, you can contact us at admin@1millionbot.com
How we use cookies
This website uses cookies. Cookies on this website are used to personalize content and, where appropriate, advertisements, provide social media features, and analyze traffic. In addition, we share information about your use of the website with our social media, advertising and web analytics partners, who may combine it with other information you have provided to them or that they have collected from your use of their services. You accept our cookies if you continue to use our website.
Cookies are small text files that web pages can use to make the user experience more efficient.
The law states that we can store cookies on your device if they are strictly necessary for the operation of this page. For all other types of cookies we need your permission.
This page uses different types of cookies. Some cookies are placed by third party services that appear on our pages.
Necessary
The necessary cookies help to make a web page usable by activating basic functions such as navigation on the page and access to secure areas of the web page. The website cannot function properly without these cookies.
| | | | |
| --- | --- | --- | --- |
| Name | Supplier | Purpose: | Expiration |
| PHPSESSID | Website – PHP language | It is a general identifier that allows user session variables to be maintained. | At the end of navigation |
Behavior
Behavioral cookies help us understand how visitors interact with web pages by collecting and providing information anonymously.
| | | | |
| --- | --- | --- | --- |
| Name | Supplier | Purpose: | Expiration |
| UID | Analytics – Google | It provides a unique ID generated for the user which is linked to the activity provided on said website. The data is sent to create analyzes and reports. | 2 years |
| __utma | Google Analytics | It is used in the statistics to differentiate between new users or returning users. | 2 years |
| __utmb | Google Analytics | Determines the new sessions. If you return after the 30-minute expiration, it will be taken as a new visit but from a returning user. | 30 min |
| __utmc | Google Analytics | Used to enable code functionality from older versions of Google Analytics. | At the end of navigation |
| __utmt | Google Analytics | It is used to speed up the number of service requests for large data collections on sites with very high traffic. | 10 min |
| __utmv | Google Analytics | It allows website owners to create customizable variables that can be measurable. | 2 years |
| __utmz | Google Analytics | Identify where the traffic to the website is coming from. | 6 hours |
| _ga | Google Universal Analytics | Assigns a randomly generated number to calculate sessions and campaign data for analytics reports. | 2 years |
| _gid | Google Universal Analytics | Stores and updates a unique value for each page visited. | 24 hours |
Functionality
These cookies help to give greater functionality to the service we provide.
| | | | |
| --- | --- | --- | --- |
| Name | Supplier | Purpose: | Expiration |
| 1mb_user | 1MillionBot | Creates a randomly generated unique ID that allows a user to be identified and related to their information stored in the chatbot database in question. | 5 years |
| et-pb-recent-items-font-family | Generated by website template | It is a cookie that stores the font of the text to give design to the website. | - |
| wp-settings | Ltd. | WordPress makes use of these cookies to modify the appearance of the website either for the user or for the administrator. It does not store any type of personal information. | 1 year |
| wp-settings-time | Ltd. | WordPress makes use of these cookies to modify the appearance of the website either for the user or for the administrator. It does not store any type of personal information. | 1 year |
Choices Regarding Cookies
You can control or delete cookies whenever you want as explained in the following section. In addition to being able to delete all cookies that are already on your computer, you can also set most browsers to stop accepting them. But keep in mind that if you reject cookies, you may have to manually reconfigure your preferences each time you visit a site and certain services and features may stop working.
They can also activate the "incognito mode", through which the browser does not store any browsing history, website passwords, cookies or other information related to the websites visited by Web Users. Web users can find more information about this in the "help" section of their browser.
Modify cookie settings
You can restrict, block or delete cookies from One Million Bot or by using your browser. In each browser the operation is different, the 'Help' function will show you how to do it.
Everything related to Google cookies, both analytical and advertising, as well as its administration and configuration can be found at:
Cookie policy update
We may update the Cookies Policy of our Website, so we recommend you review this policy each time you access our Website in order to be adequately informed about how and why we use cookies.